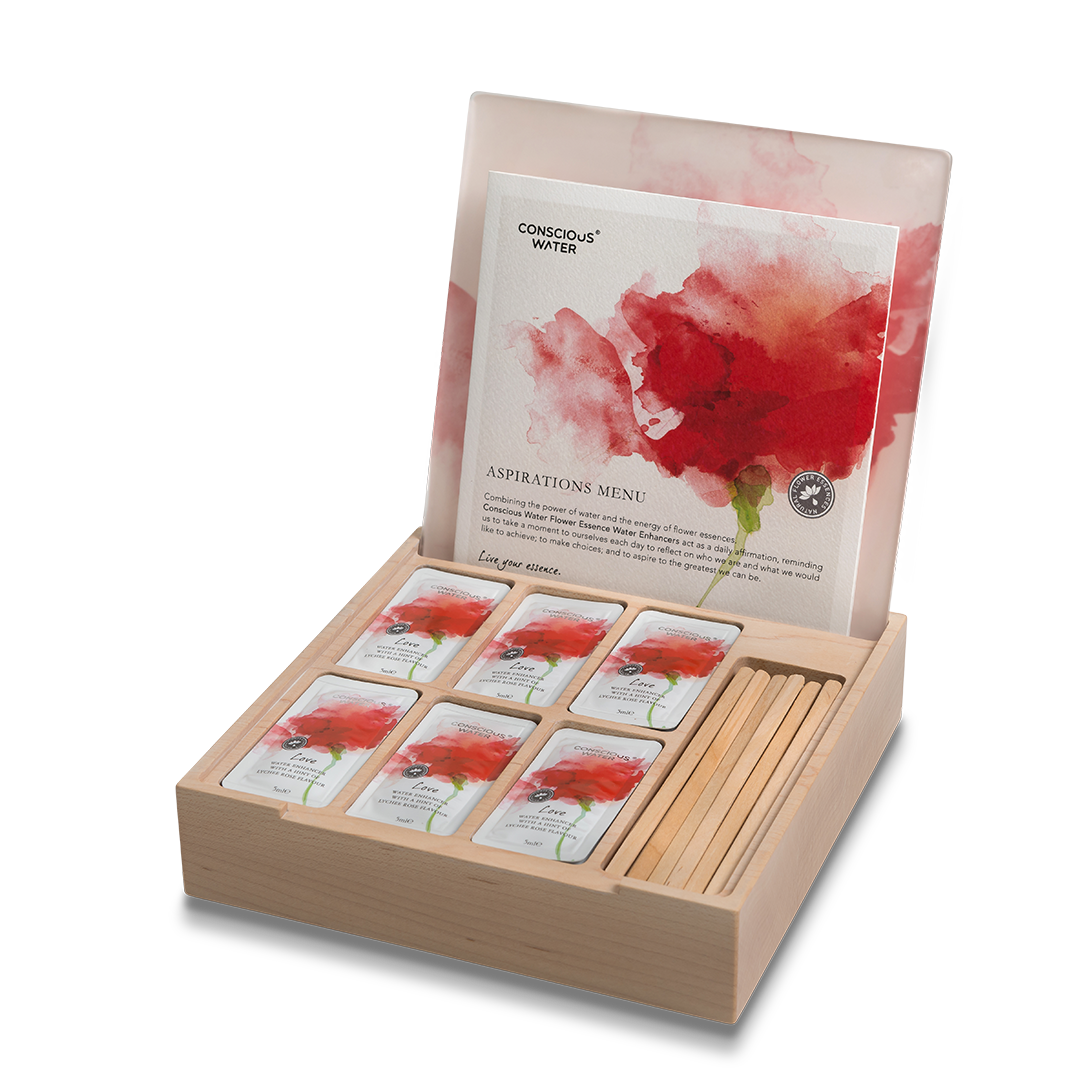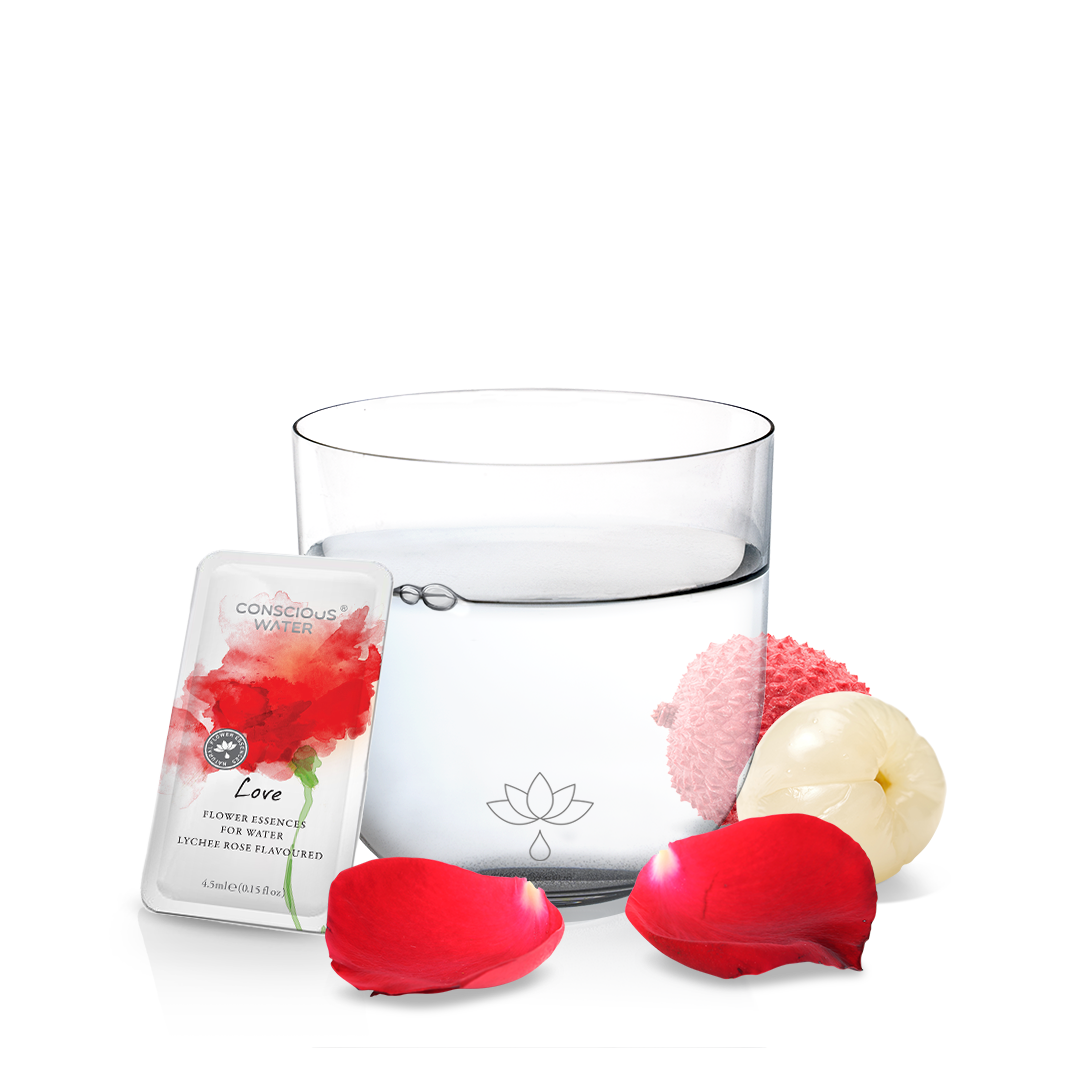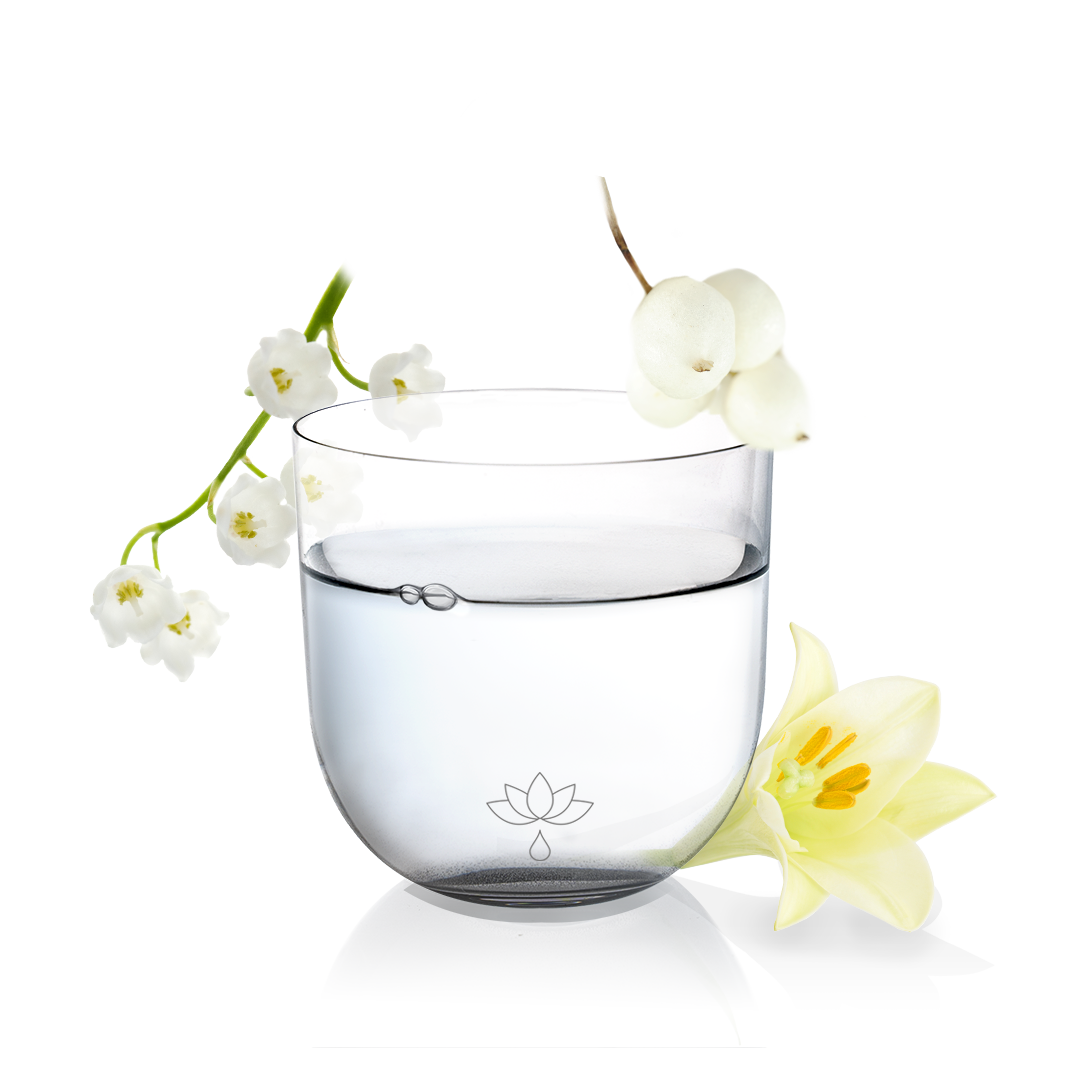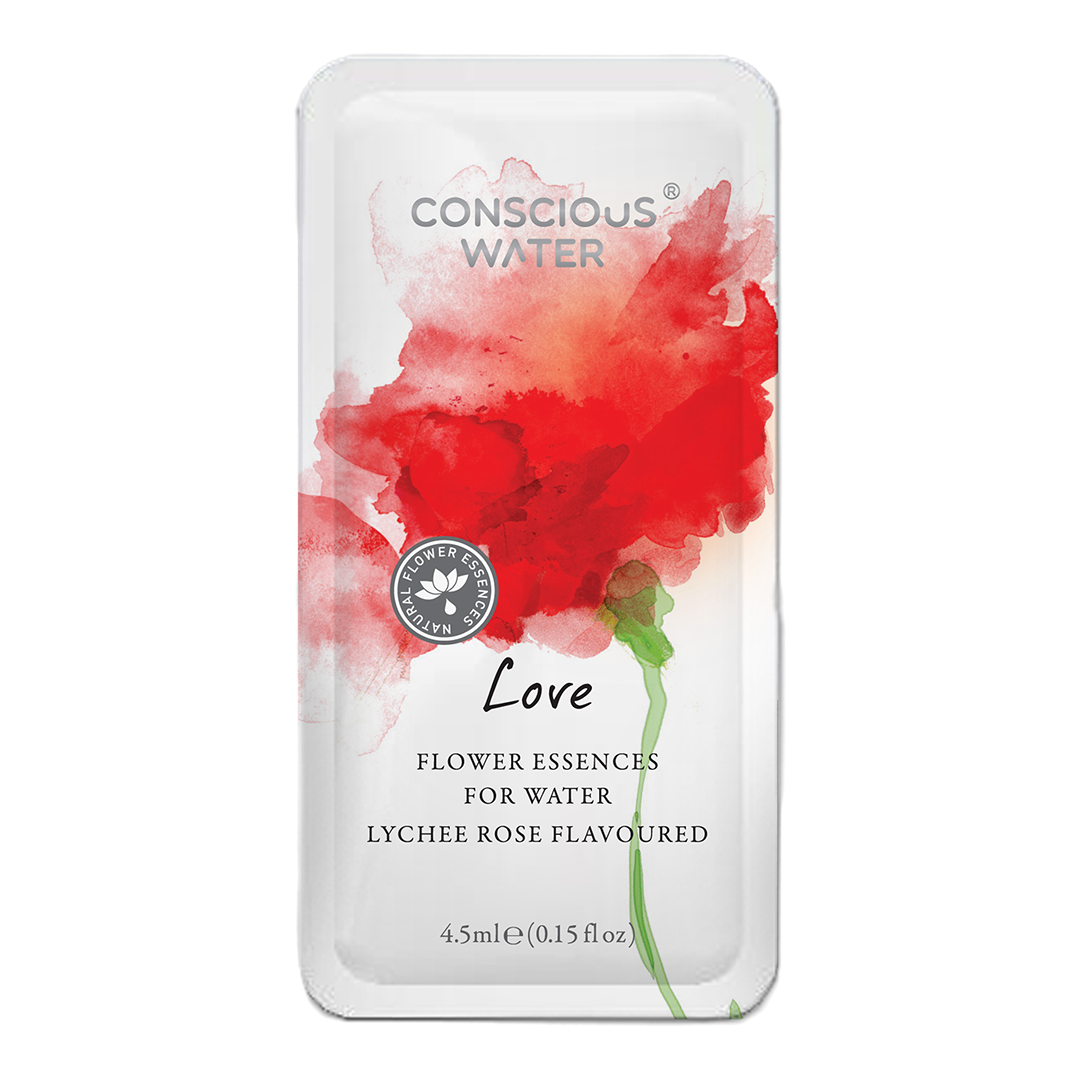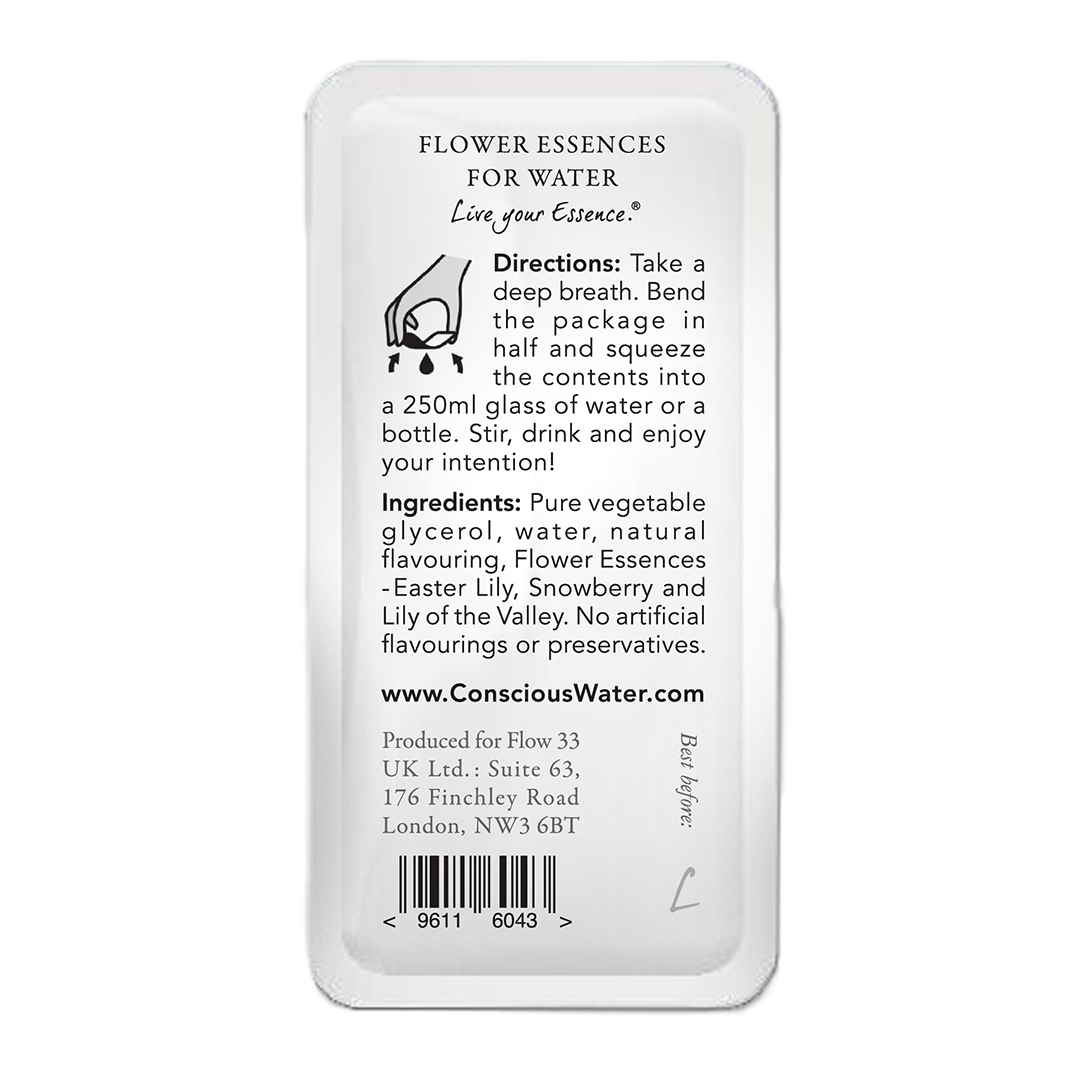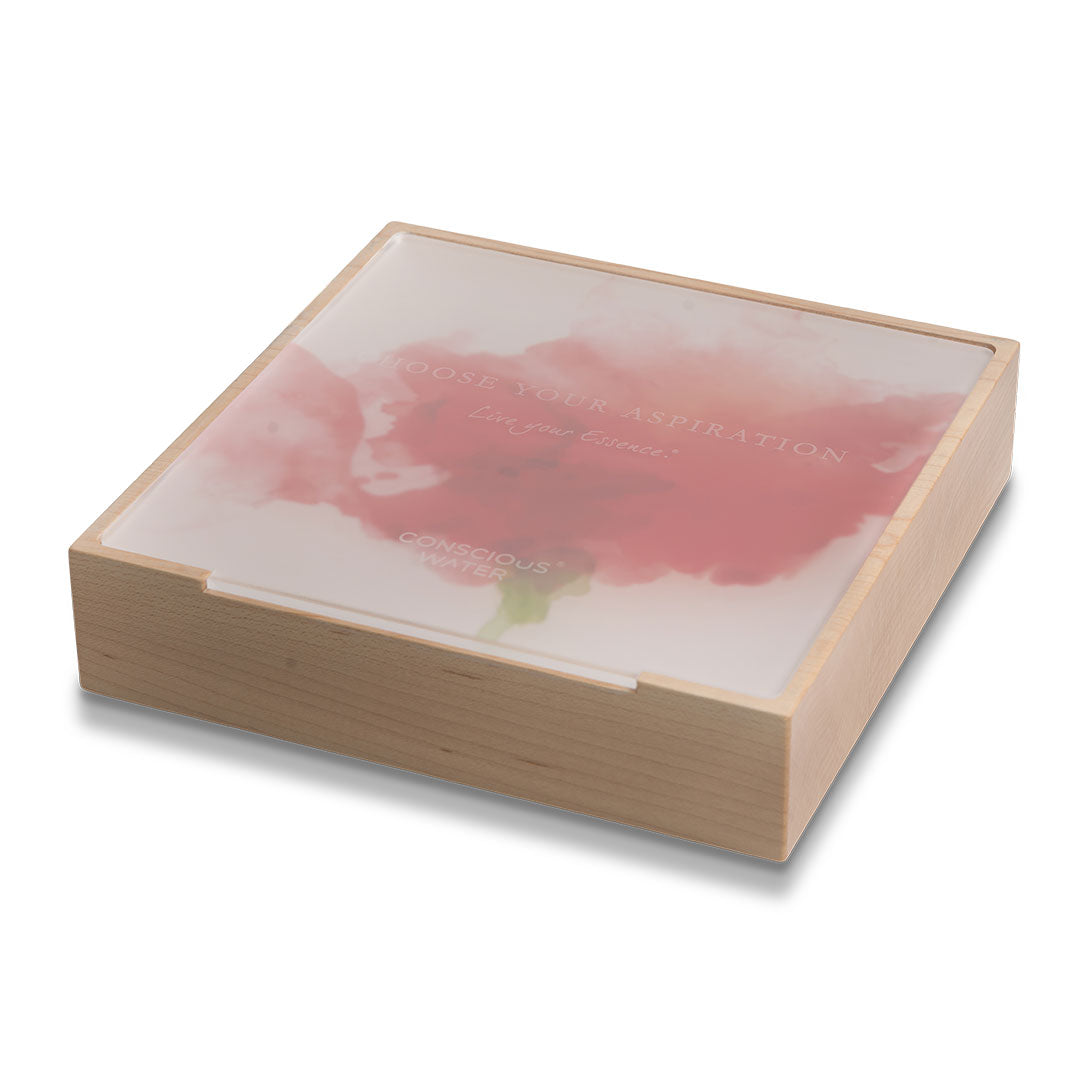 Serving Wood Box Love
Conscious WaterLiquid Infusion
Love is a luscious word that gives us a warm glow inside. The sweetest feeling as you melt into someone's arms. It is an intangible emotion whose effect is palpable. It could be the ardent love of a partner, the undying love for family, the love for fellow humans or the love for Mother Earth. Our flower power helps unlock and spread the love you have inside. 

Serving Wood Box Love
=

SUSTAINABLE

NATURAL

VEGAN

CAFFEINE FREE

SUGAR FREE
FLOWER ESSENCES
Handpicked from earth's bounty, Conscious Water Love features flower essences of Easter Lily, Snowberry, and Lily of the Valley blooms.
BOTANICAL EXTRACTS
To enrich the flower essences formulation with natural flavour and health-giving nutrients, Conscious Water Love features pure Lychee and Rose extracts.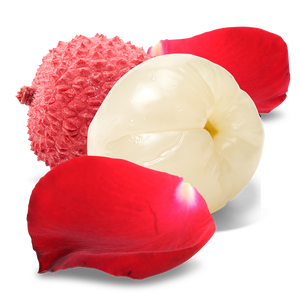 LYCHEE
Providing a burst of tropical flavour, Lychees are naturally sweet and jam-packed
with Vitamin C, minerals, and healthy antioxidants.
ROSE
Known for their irresistible scent and delicate taste,
Roses are a universal symbol of love and are thought to be nature's aphrodisiac.
ENJOY IN 3 EASY STEPS…
STEP 1… fold

Fold the single serving liquid infusion in half.
STEP 2… squeeze

Squeeze into 250ml or more of fresh water, to taste.
STEP 3… stir

Stir swiftly, breathe deeply, and sip intentionally.
FAQ
What is Conscious Water?
Created to empower you to drink more water, more consciously, Conscious Water provides functional hydration for intentional living. Each liquid infusion features a proprietary blend of natural fruit and flower botanicals that enhance the taste of fresh water, boost your wellbeing, and support you in practicing mindful living.
Read more
How do i use the Liquid Infusions?
Enjoying Conscious Water is as easy as 1, 2, 3. First, you fold the single serving in half. Next, you squeeze the contents into 250ml or more of fresh water (depending on your taste preference). Then, you stir swiftly, breathe deeply, and sip intentionally.It's designed to be easy, so you can drink mindfully at home, and on the go.
Can I enjoy multiple liquid infusions per day?
Yes! Conscious Water Liquid Infusions are safe, natural, vegan, sugar free, caffeine free, low calorie, and suitable for frequent daily consumption. In fact, each Conscious Water Liquid Infusion is created to support you in hydrating more frequently, and more effectively, in order to boost your overall wellbeing.
Where is Conscious Water created?
Featuring natural flower essences that are sourced and handpicked around the world, Conscious Water Liquid Infusions are formulated with care in the United Kingdom.
How does Conscious Water contribute to a better future for us all?
Here at Conscious Water, sustainability is part and parcel of everything we do. We believe that sustainability is a conscious choice and we do our best to make better choices daily—in support of one another, and our shared planet.